(
Don"t cry! We"re finally back!
Collapse
)
Appearances of Sims made by:
simsforaranya
bondchick_nett
racing_oatmeal
pixel_trade
time! Current spouse, Helle Almassy, is all
raemia
's
fault
.
(
Wait, why didn't I think of that?
)BORK LEGACY (
pixel_trade, Viking Death Squad, ISBI, Rainbow)Family Tree!Bag a Bork!
(sim downloads)
Generation 1
1.1
Generation 2
2.1
|
2.2
|
2.3
|
2.4
|
2.5
|
2.6
Generation 3
3.1
|
3.2
|
3.3
|
3.4
|
3.5
|
3.6
|
3.7
Generation 4
4.1
|
4.2
|
4.3
|
4.4
Generation 5
5.1
|
5.2
|
5.3
|
5.4
|
5.5
|
5.6
Generation 6
6.1
|
6.2
|
6.3
|
6.4
|
6.5
It's



(

Humble BeginningsCollapse

)



End of week stats:

New Households: 3 (Queenston/Shelburne, Kitana/Klara, and FIrebolt/AvelinA)
Households: 15
Births: Rephaim Storybook, Kintore Ontario, Stevie Rae Storybook, Koala and Grumpy Bear, Logan Brown, Dorset, Clinton, and Motherwell Ontario, and Paxa Foster
Deaths: Max and Thea Storybook, Juliet Brown
Community Lots: 12 [Maplecliffe Food Mart (now comm), Man's Best Friends (now comm), Little Brown Boutique (now comm), Vayu's unnamed bakery/electronics store, and Sailor's unnamed toy store, Mist and Magic (Bear), Gabriel's museum, Aurora's unbuilt store, Maplecliffe Dinner Cruise (comm), and In Da Club (comm)], Maplecliffe Theatre

Careers unlocked: Adventure, Architecture X1 (1 filled) Business, Criminal x1 (1 filled) Education X7 (3 filled), Law Enforcement X5 (1 filled), Politics (1 filled), Slacker X1 (1 filled), Culinary (1 filled), Military (unfilled), Intelligence X1 (1 filled), Music
Burglaries: 2
Fires: 1

Sim Multiplier: 8
Total Population: 73 (584)
Babies: 0
Toddlers: 5
Children: 10
Teens: 15
Adults: 37
Elders: 6


---
Appearances of Sims made by
brilliantcat
verocchio
Current Mood:

blah

Current Music:

Rachel Platten "Fight Song"
(
Just chillin". And skillin".
Collapse
)
---
Appearances of Sims made by:
the_caaah
keoni_chan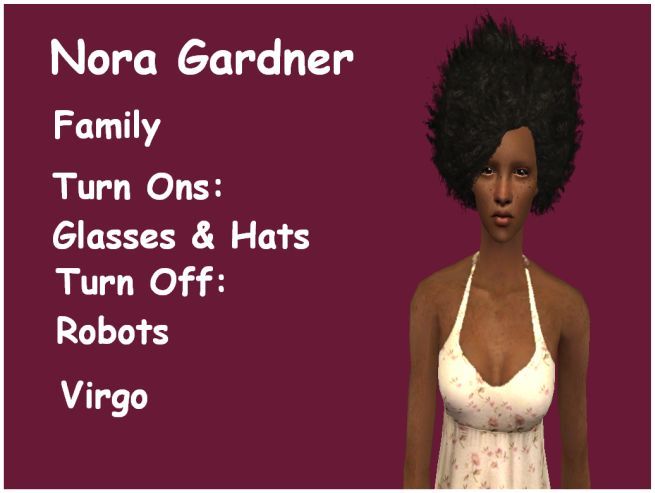 I realized I had forgotten to upload Nora with the last sims I uploaded so here she is
Nora comes packaged with CC as shown so please use clean installer
DOWNLOAD NORA
(
Yes, I"m talking to you
Collapse
)
---
Appearances of Sims made by:
racing_oatmeal
_simplyrandom
bbyclawz
dorkasaur
brilliantcat
Founder submission will close April 30 at midnight EST
.
Here is a reminder of the rules. Some of the more important or changed points have been bolded for emphasis.

1. Four founders per person per game.

2. Founders must be CC free and packaged with BASEGAME-ONLY content. For the Sims 3, sliders can be used, but please mention on your picture you have used custom sliders.

3. Sims 2 founders should be in .Sims2Pack form. Sims 3 founders should be in .sim form. Sims 4 founders should be in a .zip with all the appropriate files OR shared on the gallery and tagged #pixel-trade.

4. All teaser images should be 600 x 600 pixels or smaller. Please include images of your sims all dolled up (if you have dolled them up) and a picture of how they're packaged, with their clothing and hair. This makes it easier to recognise them in Bodyshop / Create A Sim. Please remember; one image per sim! If you want to include any descriptions, please do so on the image itself.

5. Comments are screened. Mods will be testing your files to make sure everything shows up ok !If this is your first time posting please read the rules and refer back to previous submission posts for further info.
If you have any questions, feel free to PM me directly!
Aaaand, I'm a day late. Not a good precedent, is it? Without further ado, however, here is your founder submission post for the remainder of March and the entirety of April.